Tongasoa — Welcome to Madagascar!
This fascinating island nation offers environmentalists and outdoor enthusiasts incredibly diverse opportunities to explore and learn. With some of the world's most wondrous biodiverse regions, Madagascar truly is the adventure of a lifetime!
With this Madagascar travel guide, we aim to answer all of your questions related to travelling to Madagascar and all the things you can do and see here.
As local travel experts in Madagascar, we have been planning and guiding travels around the country for over 20 years. We love to share our expertise with visitors, especially in relation to sustainable and responsible travel in Madagascar.
With less developed infrastructure than many international tourists are accustomed to seeing, getting around Madagascar can be a bit more of a challenge.
Many visitors also fail to recognise just how vast this island nation truly is! Planning a trip to Madagascar is therefore no small feat.
We hope the insights in this Madagascar guide will help you as you research your travel plans. And we also hope that you take special care to ensure your travels in Madagascar are as responsible as possible.
Want to tap into our local knowledge? Get in touch for an informational call and we'd be happy to advise you on your Madagascar travel plans!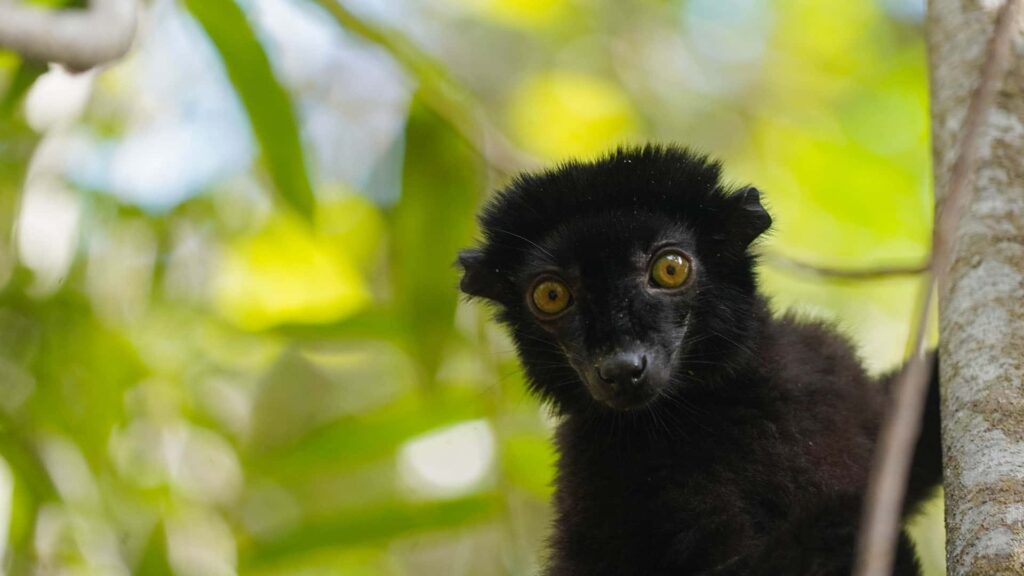 Where is Madagascar?
Madagascar is located about 400 kilometres (250 miles) off the southeastern coast of Africa, closest to Mozambique. As an island nation, Madagascar is separated from all other landmasses and has been for many thousands of years.
It is due to that separation that Madagascar has a multitude of endemic species of both flora and fauna. A visit to Madagascar is a step into a completely different world!
Beyond that isolated evolution of flora and fauna, the people of Madagascar are also ethnically unique. Despite the island being closer geographically to the African continent, the Malagasy people are a blend of Asian and African cultural traits.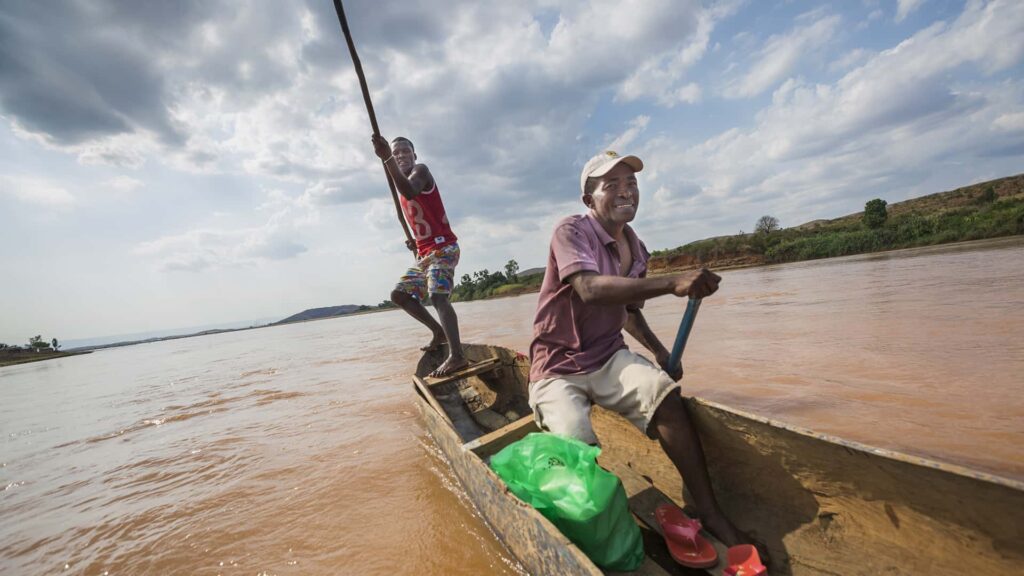 How to Get to Madagascar
As an island nation, the best way to get to Madagascar is by flying, unless you have your own boat.
Most flights arrive at the Ivato International Airport in the capital city of Antananarivo, which is called Tana for short. The airport is located 16 kilometres (10 miles) outside of the city.
Additionally, there are also direct international flights on Ethiopian Airlines to Nosy-Be, off the northwestern coast of Madagascar.
International flights to Madagascar arrive via Nairobi, Paris, Johannesburg, Istanbul, Addis Ababa, La Reunion, or Mauritius.
If you're flying from Europe, you will most likely fly via Paris, Nairobi, Addis Ababa, or Istanbul.
Visitors from the East Coast of the Americas often fly via Europe or Johannesburg. Meanwhile, West Coast visitors and visitors from Oceania and Asia might go via Istanbul or Addis Ababa from hubs elsewhere.
Although the journey can be quite long for some visitors, the reward is certainly worth the effort!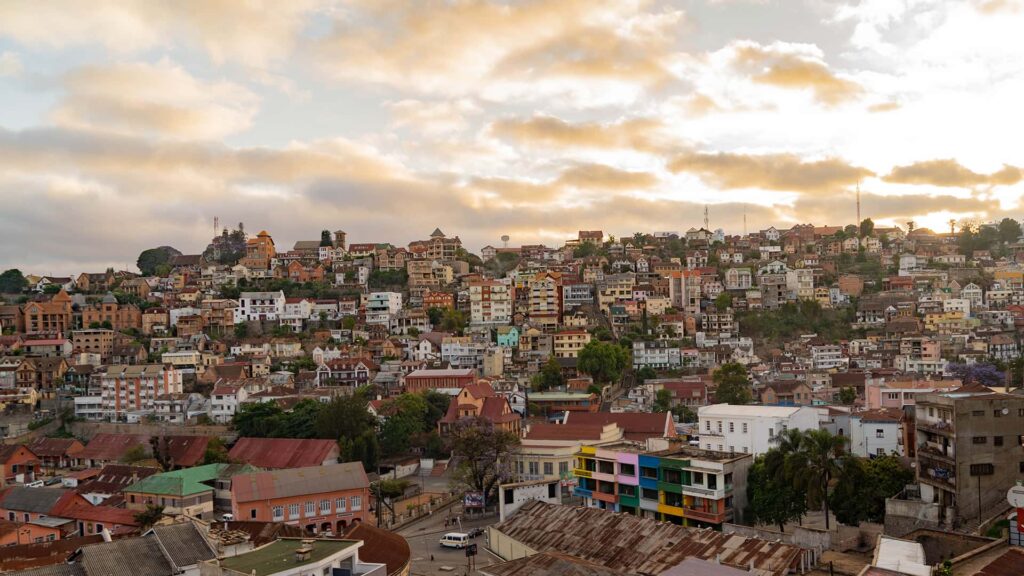 Visa Requirements for Visiting Madagascar
As an international traveller, it is always important to consider your visa requirements for entry and the duration of your stay in another country.
During Covid, there are additional requirements and concerns with international travel, so it is vitally important that you do your research before booking any trips. Reach out to us for the latest updates and information.
Generally speaking, to board your flight to Madagascar you must hold a valid passport that is still valid at least 6 months from the date of return.
Upon arrival in the country, you will purchase your visa at the airport. It is possible to obtain your visa prior to departure by visiting your local Madagascar Embassy or Consulate. This is typically more expensive and more laborious, however, so it is not recommended.
If you are traveling with TravPact on one of our sustainable Madagascar tours, your driver will be waiting for you after you get through the secure area and can assist with completing your money exchange at the airport if you need any help.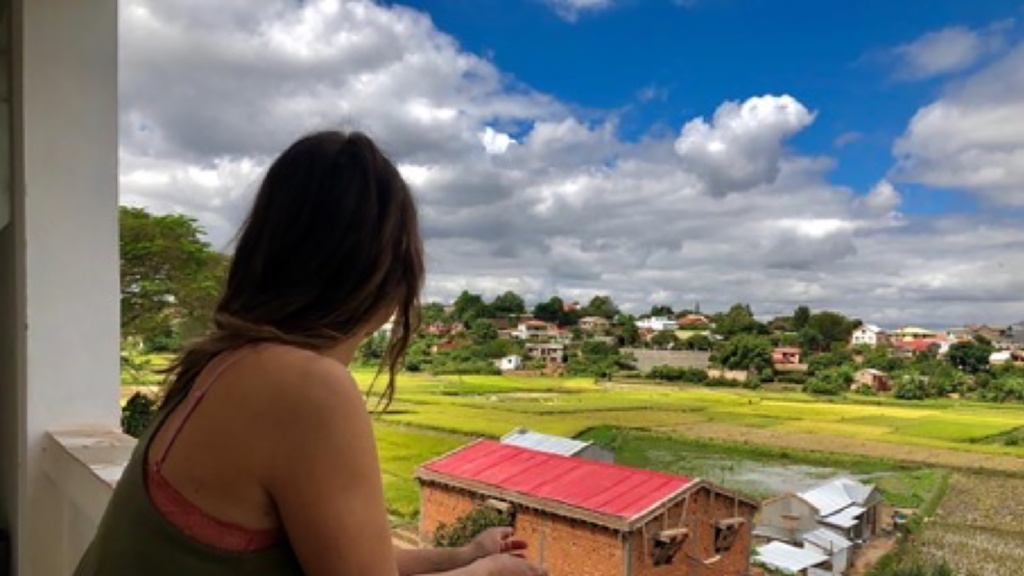 How to Get Around the Island
Madagascar is the world's fourth-largest island, so its size should certainly be taken into account when planning a trip. On top of the large scale of the island, most roads are not well paved and can prove to be quite difficult at times.
Slowing down and utilising driver-guides for internal transfers and journeys by road is highly recommended.
For reference, Madagascar is similar in size to France, Belgium, and Luxembourg combined, or about 2.5-times bigger than the UK.
If you're planning a trip to Madagascar that includes multiple stops, do keep in mind that the journey between locations can be much longer in reality than it appears to be on a map.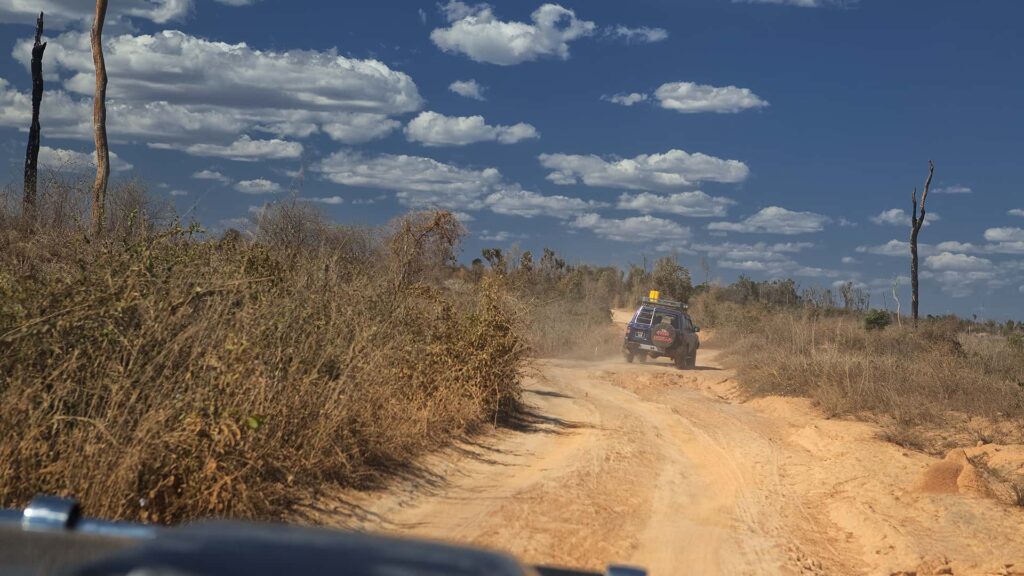 Many of our Madagascar itineraries include long drives so you can see as much of the country as possible. But we take into account the reality on the ground.
As locals, we know which roads are in the best condition at any given time due to weather conditions and traffic patterns. And, of course, it also helps having a driver so you can doze off in the backseat during the longer drives!
There are also many inaccessible areas of Madagascar that can only be traversed by river or on foot. We love to visit some of these areas to truly get into nature and experience some spectacular landscapes and wildlife.
Camping in remote areas, interacting with folks from local villages that hardly ever see tourists…these moments are truly unforgettable!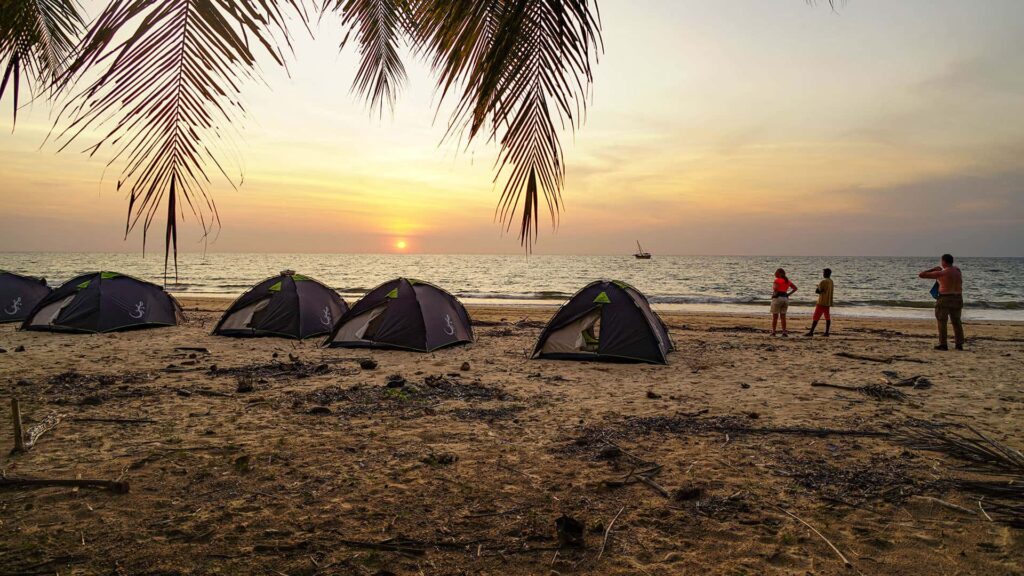 Can you see all of Madagascar in one trip?
An important point to consider is the sheer scale of Madagascar. You could never see the whole country in a single trip.
We also emphasise sustainability with our guests at TravPact, preferring to focus on a particular area of the country during a single trip. This minimises your negative impact and allows you to delve deeper into local culture and explore the natural environment.
We hope you'll choose to travel with impact!
Check out our Highlands to Coast 16-Day Bike Tour in Madagascar and get off the well-trodden tourist track to experience so much more!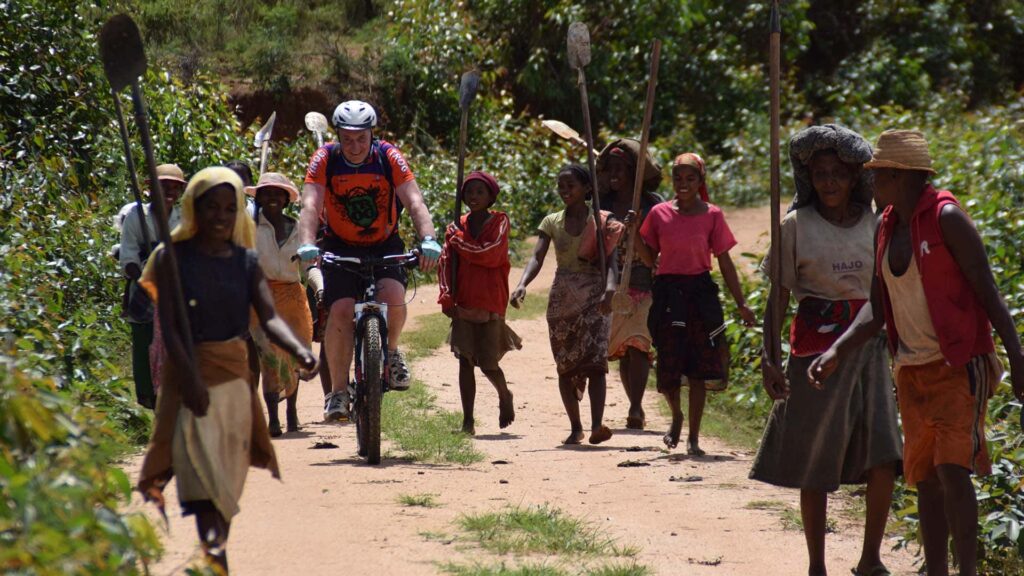 Top Places to Visit in Madagascar
There are so many incredible places to visit in Madagascar! Whether you prefer the clear turquoise waters and white sand beaches or the lush tropical rainforests and highlands…Madagascar is a nation of diversity in every respect.
These are just a few of the places we recommend every traveller to Madagascar should visit…
National Parks of Madagascar
This country has 19 national parks for you to explore and enjoy, plus nature reserves, local parks, and marine reserves. The conservation efforts of these protected areas are of vital importance and we strongly encourage every traveller to learn about these efforts and support them.
You can learn more about the 43 protected parks of Madagascar from the national body in charge of establishing, conserving, and managing the national network.
These are the national parks of Madagascar:
Amber Mountain National Park (Montagne d'Ambre)
Analamazaotra National Park (Périnet)
Andasibe-Mantadia National Park
Andohahela National Park
Andringitra National Park
Ankarafantsika National Park
Baie de Baly National Park
Isalo National Park
Kirindy Mitea National Park
Lokobe National Park
Mananara Nord National Park
Marojejy National Park
Marolambo National Park
Masoala National Park and Nosy Mangabe Reserve
Midongy du sud National Park
Nosy Hara National Park
Nosy Tanikely National Park
Nosy Ve-Androka National Park
Ranomafana National Park
Sahamalaza National Park
Tsimanampetsotsa National Park
Tsingy de Bemaraha National Park
Tsingy de Namoroka National Park
Zahamena National Park
Zombitse-Vohibasia National Park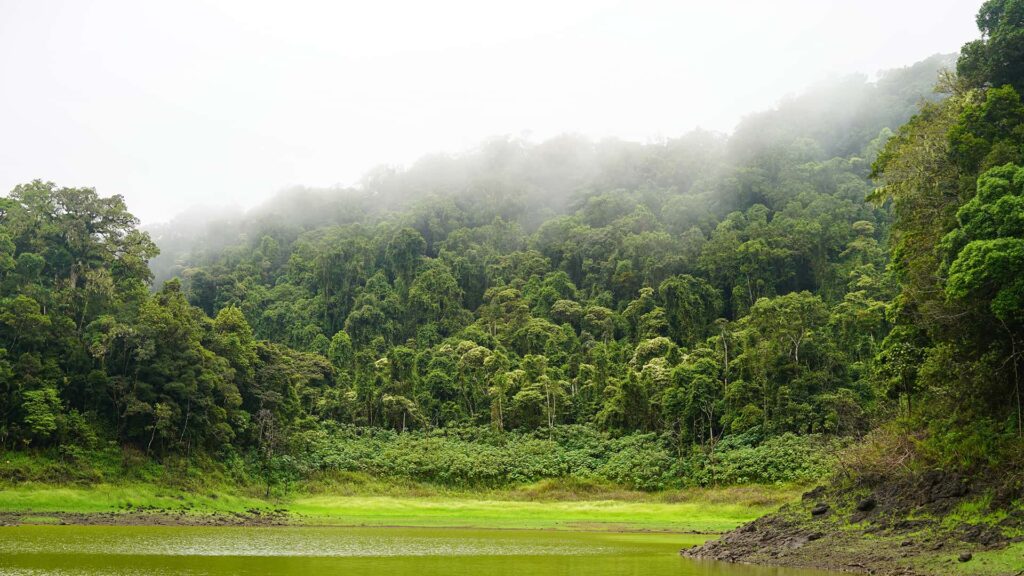 Learn more about the national parks and what you might experience at each! Check out this 7 Parks of Madagascar itinerary.
The Islands of Madagascar
Madagascar boasts beautiful islands that beckon visitors from all over the world. Nosy Be might be the most famous island, but that's certainly not the only one worthy of a visit!
Visit Nosy Tsarabanjina, a private island where you can snorkel and enjoy stunning, pristine beaches. Nosy Iranja is another private island with similarly stunning natural beauty, as well as nesting turtles!
Ile Sainte Marie is off the east coast and offers a much more relaxed, serene escape.
Another island, Nosy Tanikely, has a lighthouse to which you can climb for lovely vistas.
We love Nosy Hara! It's a very special area where camping is the only option for staying overnight. We visit this peaceful place at the end of our Marine Adventure Tour.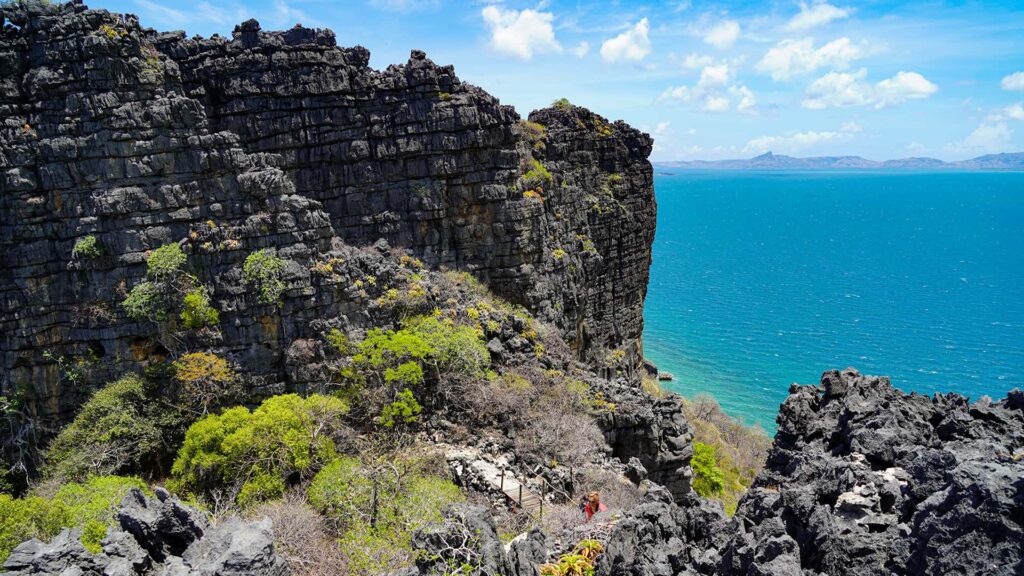 Nosy Ankao is a luxury escape where you can enjoy your own private villa and explore the island by bicycle or electric buggy.
Nosy Komba is located off the north coast and is a popular day trip from Nosy Be. Note that it's sometimes called Nosy Ambariovato.
For those responsible travellers, the park rangers are working hard on conservation efforts, so please do support them by paying the entrance fee and do not support those who feed or coax the lemurs to pose for photos.
Scuba divers love Nosy Sakatia for its exceptional night diving with fluorescent lights for a completely different experience! It can actually be rented as your own private island!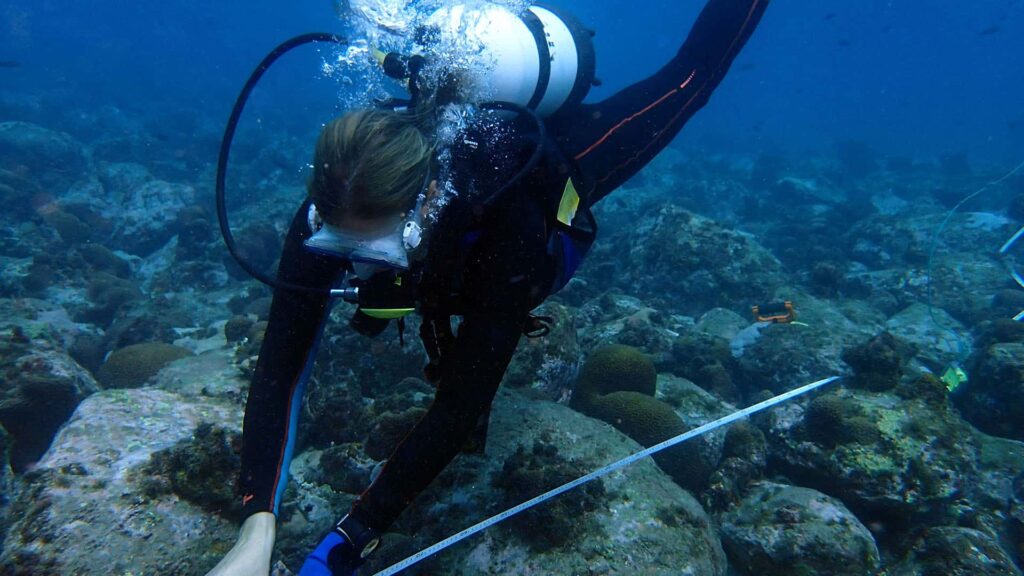 Nosy Faly and Nosy Fanihy are both ideal for responsible travellers hoping to learn more about local conservation efforts.
On the western coast, Nosy Vorona offers a tranquil respite away from all the crowds.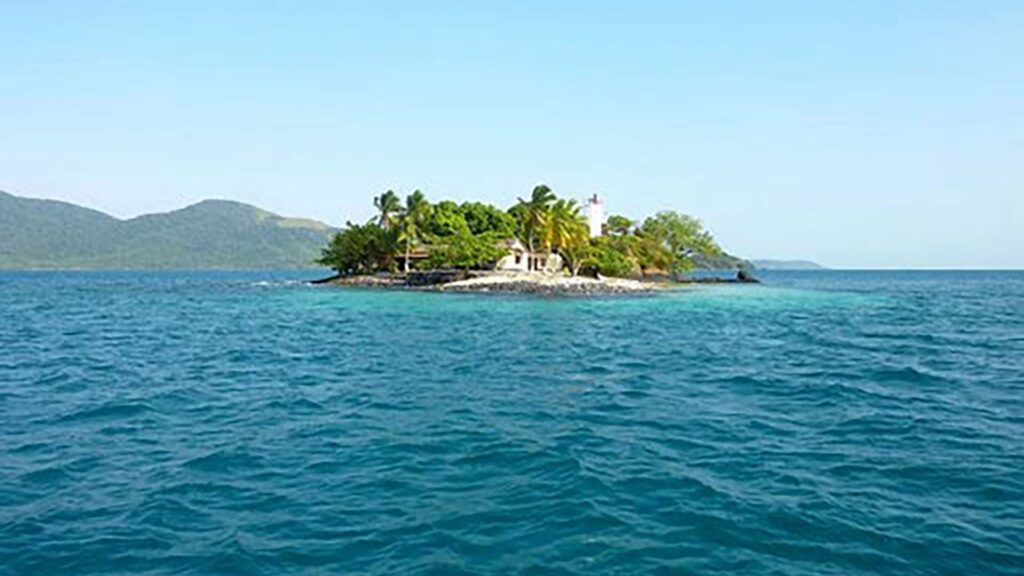 If you're looking for a real adventure, there is plenty of island-hopping during this 20-day sustainable tourism adventure of Madagascar's north!
A Guide to Antananarivo, the Capital City
The capital city of Madagascar is Antananarivo, or Tana for short. Most international flights will arrive at the Ivato International Airport just outside of Tana, so you will likely begin and end your Madagascar adventure in this city.
Alternatively, you might fly into Nosy-Be on Ethiopian Airlines, starting your journey in the far north of Madagascar. For those who arrive in Tana, we have some suggestions for you!
Not many tourists spend much time in Tana, but it is certainly a city worth visiting!
There are markets that offer a glimpse into daily life here in the capital. And there are palaces and museums that share insights into the history — particularly the colonial history — of Madagascar.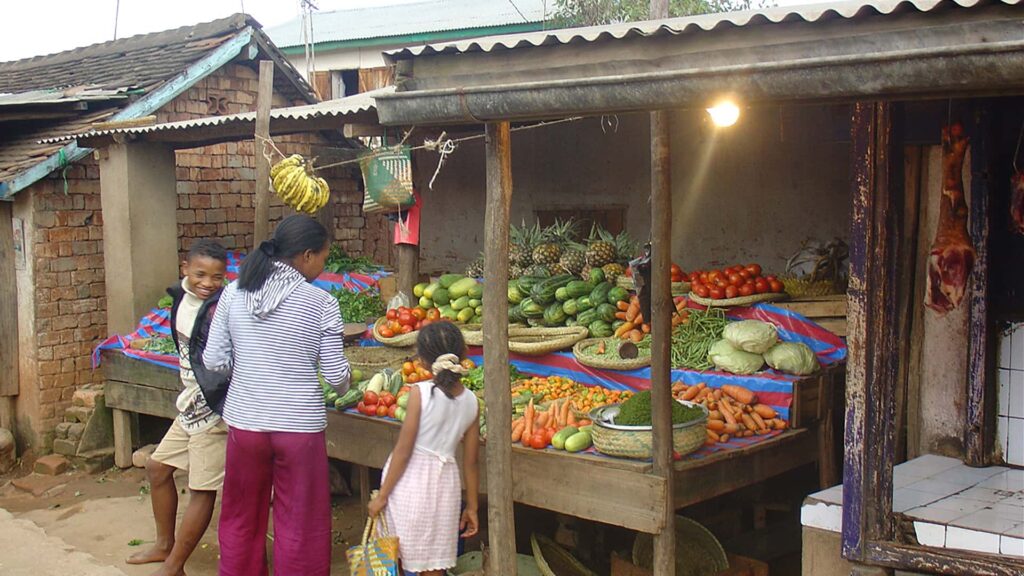 If you're interested in learning more about the centuries of recent history that still affect the island nation today, visiting these places can provide interesting information.
Around Tana, as you drive from the airport toward the city, you will see your first rice paddies. Rice is one of the most important exports for Madagascar and also a staple in the local diet.
You will also see the tight cluster of pastel-painted houses that is iconic to Tana's urban sprawl.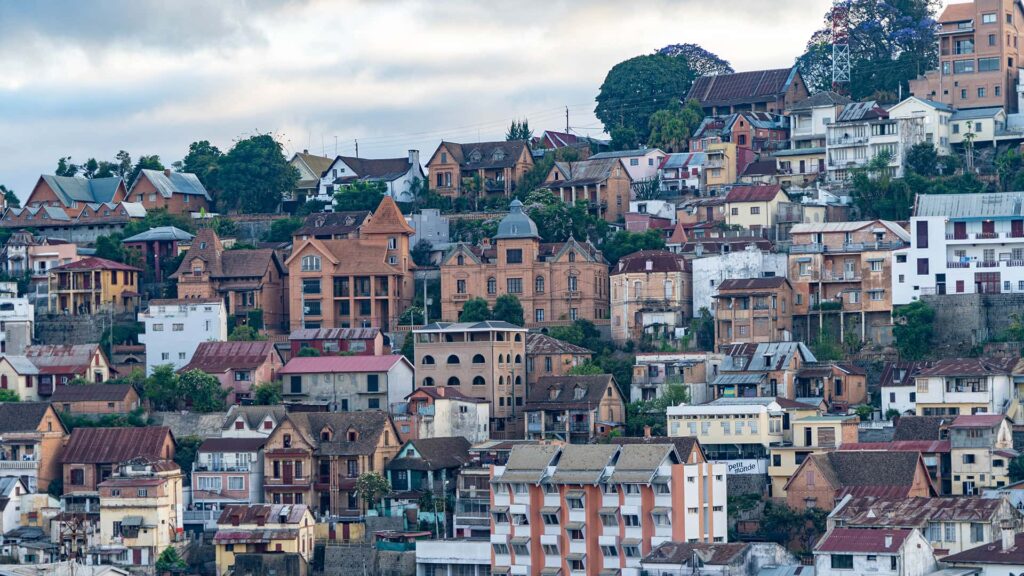 Traffic in and around Tana can be overwhelming and incredibly time-consuming, so we do advise having a driver collect you from the airport to transfer you to your accommodations. If you book a tour with TravPact, we arrange all your transportation throughout your visit to Madagascar.
Things to Do in Antananarivo
If you hire a local driver-guide to show you around the city, you can explore so much of Tana to get a feel for this bustling capital city. Here are a few must-see spots and things to do in Tana:
Go to Ambohimanga, Madagascar's only UNESCO World Heritage Site of Culture
Visit Rova of Antananarivo (also called the Queen's Palace)
Visit the pink Andafiavaratra Palace
Explore the free Art and Archeology Museum
See the French chateau-style office building of Ambohitsorohitra Palace
Sample endless local food at the city's many markets
Seek out local artisan crafts at the markets
Contact us to schedule a special local cooking experience!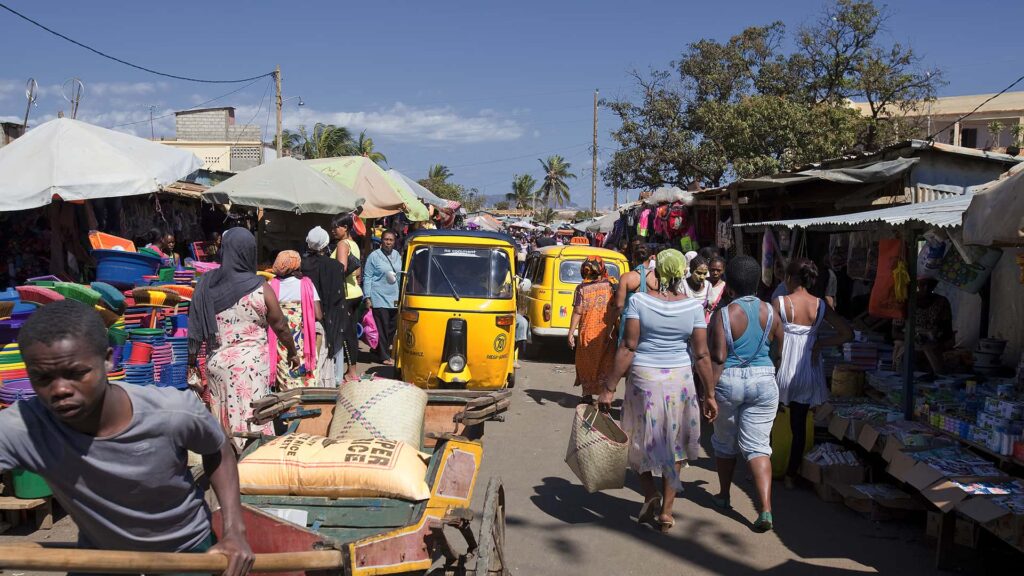 How to Be a Responsible Traveller in Madagascar
Being a responsible traveller in Madagascar is of vital importance. While we hope you are practicing responsible tourism practices everywhere you go, they are particularly important in a place like this island nation.
With countless endemic species of flora and fauna, plus new species being discovered regularly, this delicate ecosystem must be protected.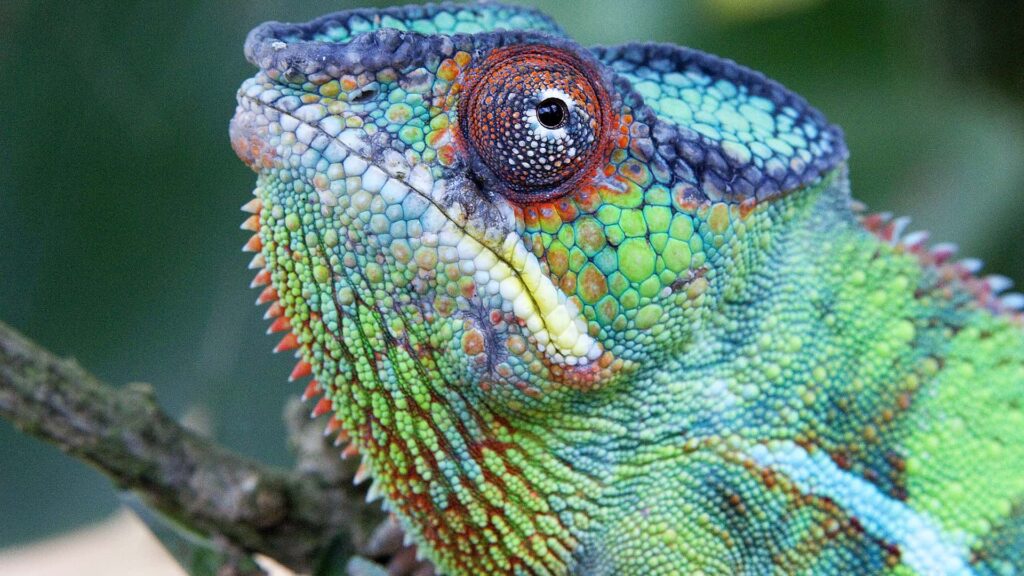 Beyond the conservation efforts for the natural beauty of Madagascar, we must also take into account our impact on local communities when we travel. At TravPact, we want our guests to Travel With Impact, leaving a positive impact on the places and people where we visit.
We cannot emphasise enough the responsibility travellers have to research where they stay, the activities they do, and the way their investment as visitors can impact the local economy and environment.
If you are ready to be a responsible traveller in Madagascar, we have a few key tips for you to consider as you research your holiday…
1. Research your tour provider.
You are likely taking a multi-day tour or at least a few day tours while visiting Madagascar. Many tourists to the beautiful islands will visit other islands or go out on water-based excursions during their visit.
Tourists visiting the mainland of Madagascar will surely have drivers, walking tours, park visits, and more in their itineraries. Researching the tour operators and providers can ensure your investment is going to the right recipients.
Look, for example, for the Travelife Certification, which shows that the agency encourages sustainable tours, excursions, and behaviours.
TravPact proudly holds a Travelife Certification!

2. Hire locals.
Whether you're looking for a driver-guide, a trekking guide, a snorkelling tour, or a special celebratory dinner — hire locals. By employing locals, you are limiting leakage in your tourism investment.
If you only stay at multinational hotels and you take tours with multinational companies, at least part (perhaps even a vast majority) of your tourism investment leaves the country.
Hiring locals and locally-owned and operated companies is an easy way to ensure local investment.
3. Leave no trace.
Wherever you visit in Madagascar, you must always remember to leave no trace. Whether that's on a multi-day trek through a national park or on a day at the beach.
Leave no rubbish, minimise your physical impact on the environment, and ensure you never disturb, touch, or feed wildlife.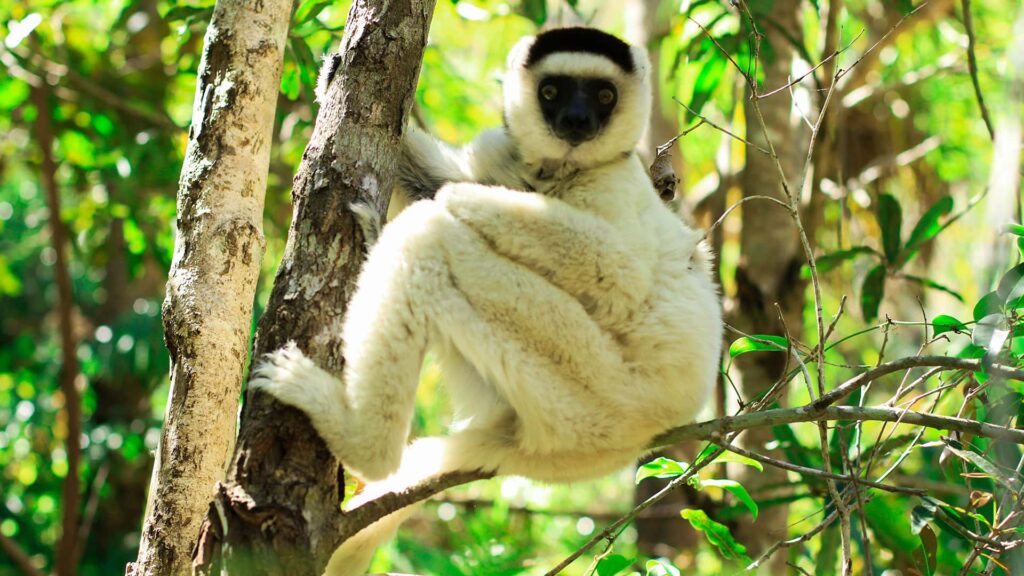 4. Support local conservation efforts
Conservation is a significant effort here in Madagascar, with countless organisations working to protect and preserve the flora and fauna that call this place home.
Many of the organisations are locally-run and also work with the local community through education and employment efforts.
Support those conservation efforts and help us protect this unique destination for many generations to come.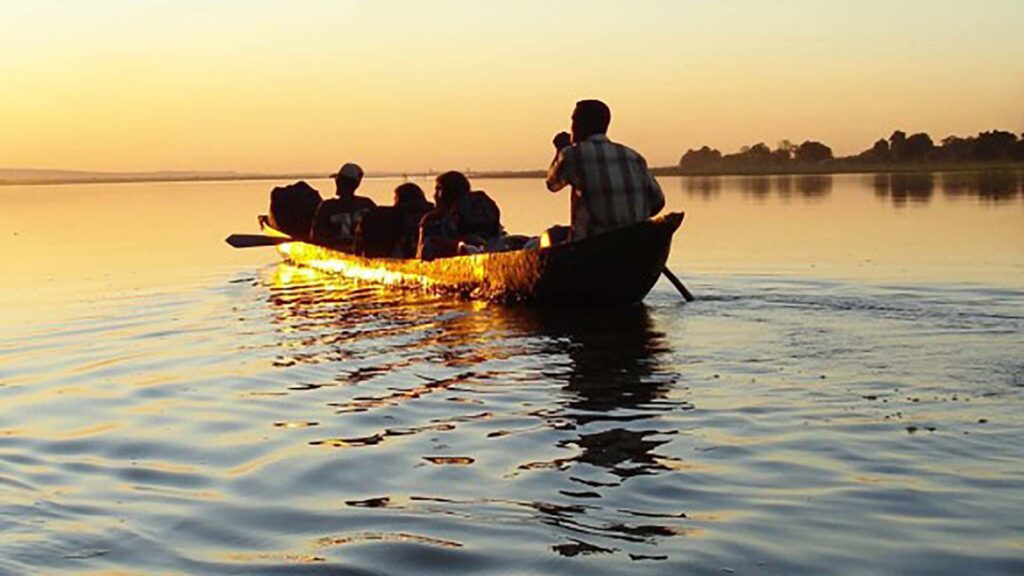 The Best Time to Go to Madagascar
When to go to Madagascar really depends on what you intend to do there and what you hope to see. The island nation is large and incredibly diverse, so you can experience varied temperatures and conditions no matter what time of year you visit!
To help you determine the best time to visit Madagascar based on your preferences and travel style, do feel free to reach out so we can discuss options with you.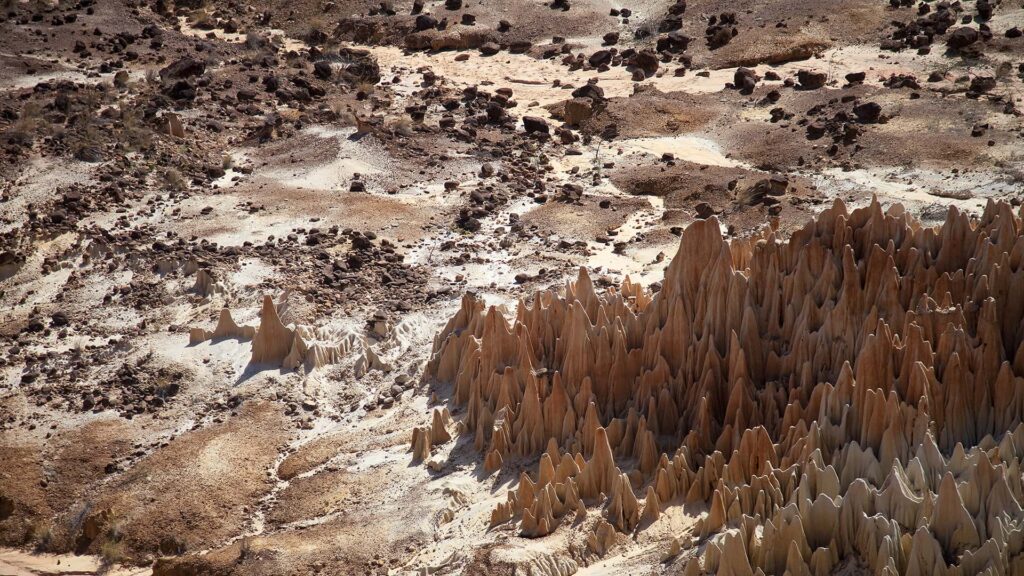 Generally, the southern part of Madagascar is more arid, so visiting during the peak of summer (November to January) means oppressively hot conditions as this is also the humid rainy season.
Meanwhile, the eastern part is wet; that's where you'll find tropical rainforests. The northern part of Madagascar is hot and humid; this is where most of the islands are as well.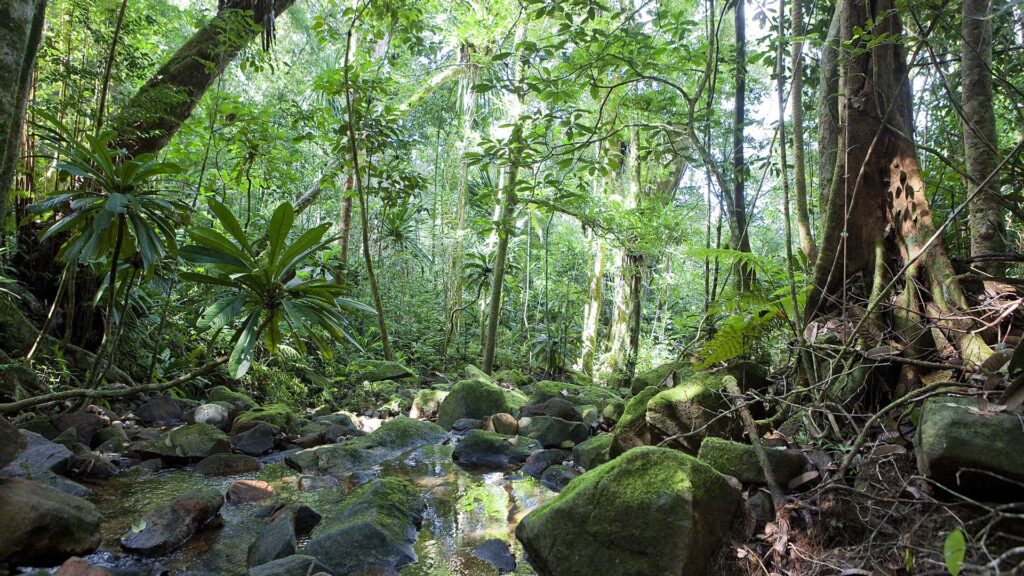 The wet season is January through March, with the chance of cyclones happening in February. From June through September, the central highlands area is colder as it experiences its winter.
Wondering when to visit Madagascar for wildlife?
Lemurs have their babies between October and December, whilst birds tend to breed between September and December.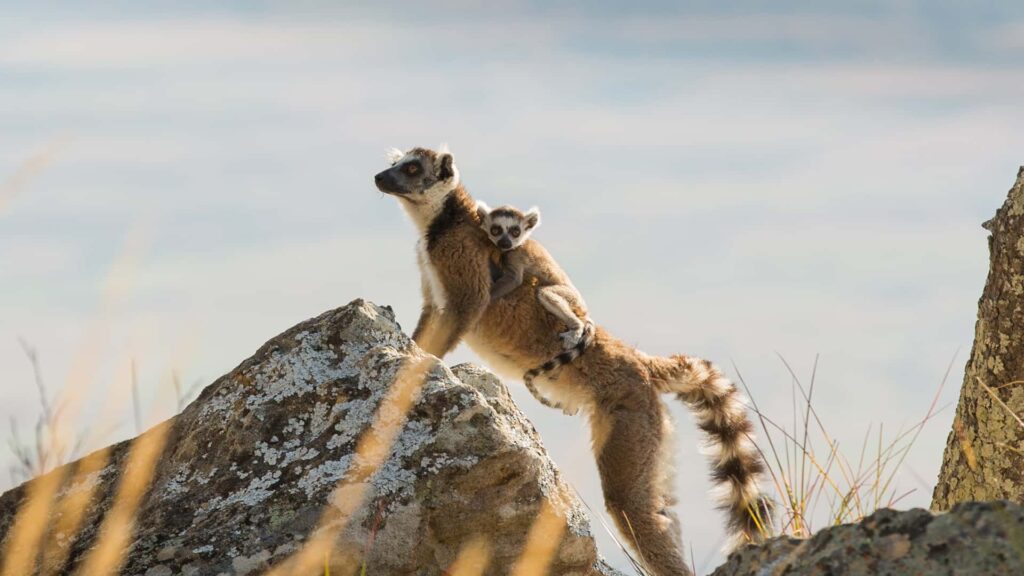 If you're hoping to see migrating humpback whales, your best chance is July or August; migrating birds tend to come through in August and September.
When is the best time to visit for flora?
As the wet season dissipates, April and May are lush and vibrant months to come to Madagascar.
If you're looking for the colours of the jacaranda season, that's usually late October and November, with Tana being in full bloom!
November through February is also the season when many orchid varieties are flowering.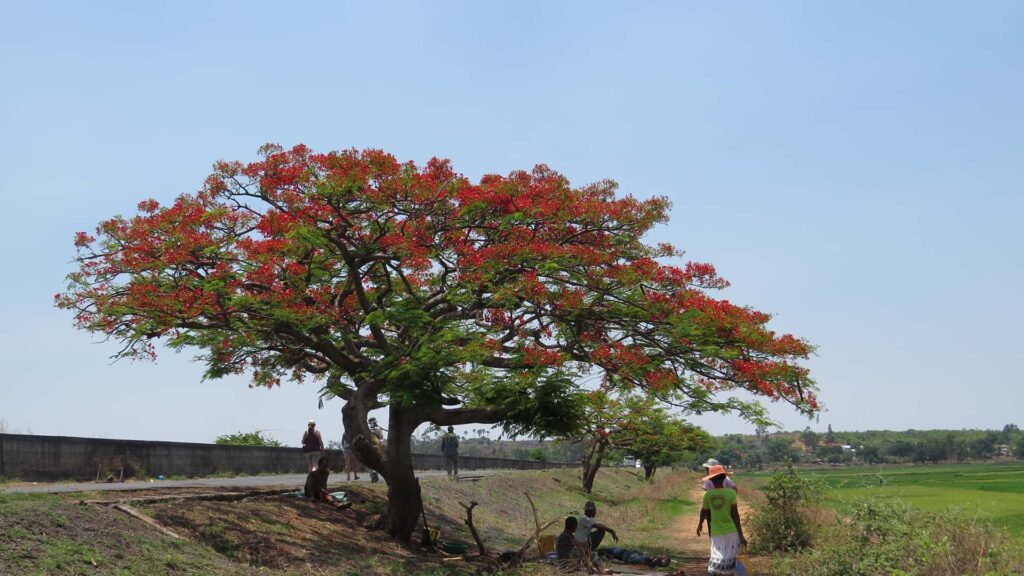 What to Eat in Madagascar
When you travel to Madagascar, you will have the opportunity to experience a wide variety of culinary delights. From basic staples eaten by locals across the country to quite high-end fusion cuisine in the capital city, Madagascar's food is as diverse as its people, its wildlife, and its landscapes!
Rice is a major staple for local dining. You'll have rice with just about every meal!
There are many influences you will notice in Malagasy cuisine, from Creole and French to Polynesian and East African.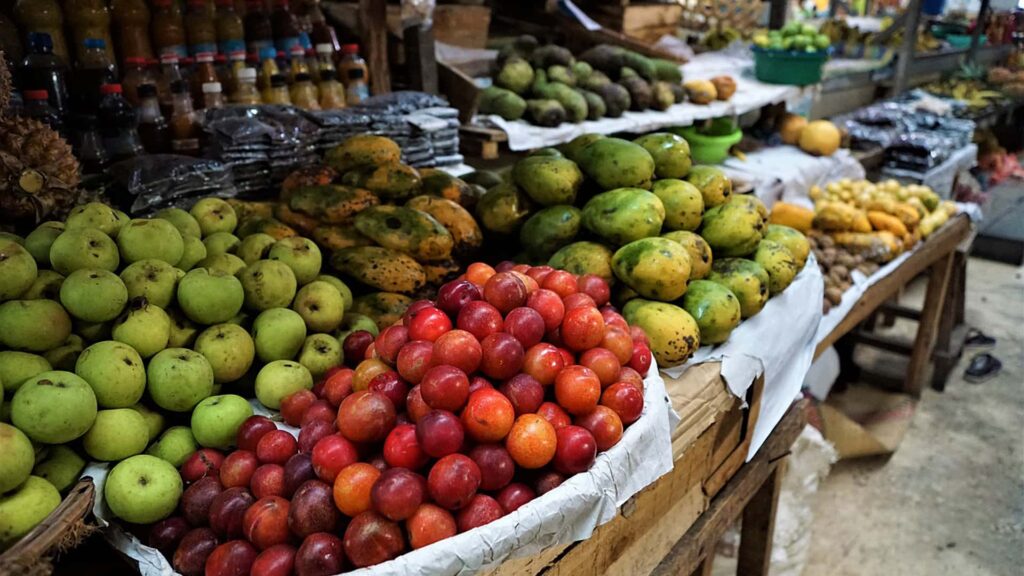 Typical foods to eat in Madagascar include the following…
Rice!
With most meals, you will be served rice.
Laoka
Served as an accompaniment to most meals, laoka contains a protein (which could be pork, beef, or seafood) as well as a green leafy vegetable like spinach or occasionally sweet potato or maize. The base will vary depending on where you are in Madagascar.
On the coast or islands, you will likely have a coconut base, while in the highlands you will more likely see a tomato base.
Tropical Fruits
During the summer growing season, particularly November to April, you can eat plenty of locally-grown tropical fruits like mangoes and lychees. All year-round you can expect to find pineapples, bananas, and papayas aplenty!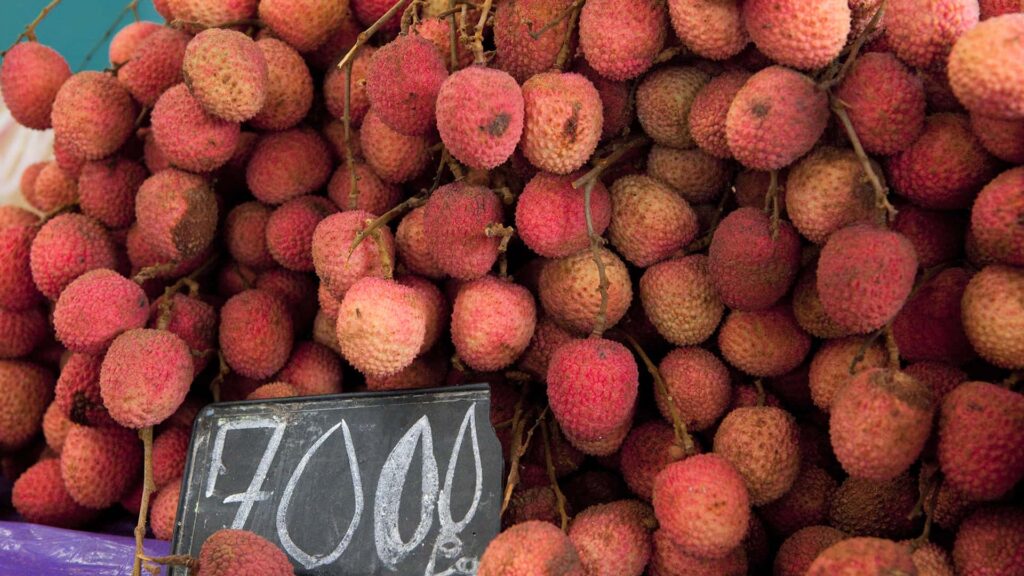 Zebu Beef
Zebu are the local cattle here in Madagascar, from which you can enjoy an incredible cut of steak, if you're not vegetarian.
Three Horses Beer
The favourite local beer, called THB for short, is available across the country. Gold is another local beer you'll see widely available.
Rum
Madagascar's local rum is spiced and flavoured in a wide variety of ways.
Do you want to learn how to cook a traditional Malagasy dish? Join us for a virtual cooking class!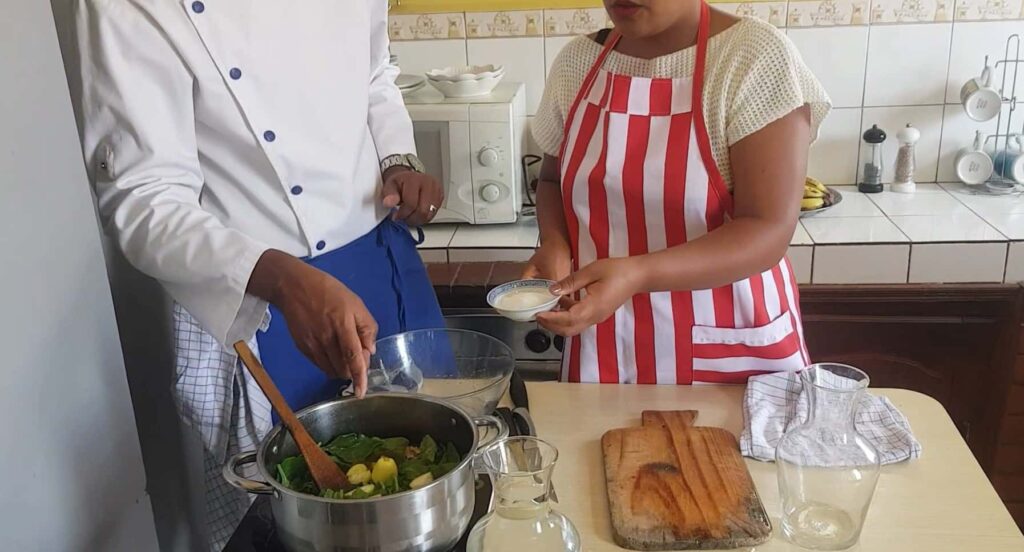 If you're ready to go beyond the virtual and start planning an actual visit to Madagascar, then take a look at our Madagascar trips to get inspired. We have itineraries ranging from 10-day to 21-day trips that take you off the beaten path. See the real Madagascar and travel with impact…join us at TravPact!
We're always happy to answer any questions you may have. Feel free to contact us any time.